Our Strategic Marketing Process
RedFusion's Process - A 30 year study of the art and science of marketing.
Strategic Marketing, Branding, Positioning, Execution & Analysis
It all starts with a plan. RedFusion has worked with CEOs and owners, for over 30 years, to build plans that have created long-term growth for their organizations.
Small business practices were never taught in college, so we have built tools and tried-and-true marketing strategies that focus on your business.
Marketing and Advertising Can Be Complex. We Help You Manage It
We believe that one of the dirty little secrets of marketing is "execution". Ross Perot said, "its all about execution, and I'm the executioner" In other words, if you don't execute, I will.  This is true with marketing as well. A carefully built plan must be fully executed. This is one of the primary reasons small business marketing doesn't work.
Speak to an Expert
Marketing Cycle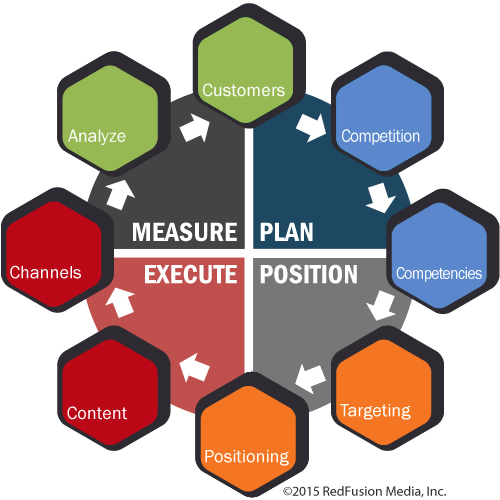 30 years of marketing planning and working with 100's of businesses have resulted in our "Marketing Cycle." Marketing should focus on your customer, therefore, your business should be only about your customer, so our planning helps you identify, personalize and communicate to your niche.
Value Diamond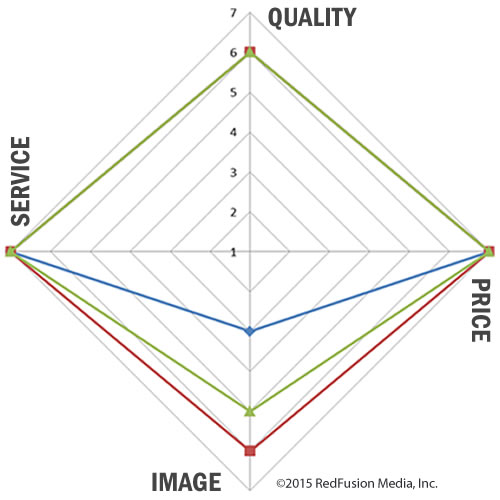 Ronald Burgess developed the "Burgess Value Diamond" in 1995 to help clients understand how value is created and measured. Clients can use the model to assess their business value based on four components: Quality, Service, Price and Image.
The Team
We bring a team of experience to your team.  We have trained writers, designers, coders and strategists at your fingertips, so you can mix and match as your plan dictates.
Systems
We have 20+ years of CRM systems experience, which not only gave us the head start on relationship management, but informed more modern techniques like social media and inbound marketing.
Trusted
We have worked for hundreds of clients. Executed thousands of jobs.  And even in the digital age of search engine marketing, we get more leads from referrals than anything else we do.
Marketing Services
Design and Communications
Graphic Design
Layout and Print Management
Corporate Image Development
Website and Content Management
E-commerce
Content writing and management
Public Relations
Internet Marketing and Advertising
Search Engine Optimization (SEO)
Targeted Advertising
Email Marketing (Broadcast/Blast)
Online Branding
Online Communication
Website Backlinking
Social Media
Traditional Marketing Services
Strategic Marketing Services
Inbound Marketing
Business Plans – Outlines
Marketing Education & Speaking
Branding
Campaign Planning
Market Research